Nails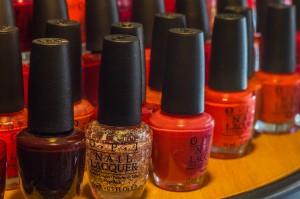 Erase all your notions of a manicure and pedicure because ours are like nothing you have ever experienced! They are truly spa services and they are divine! Enjoy these services with someone special in our side by side thrones…
(All these services include choice of polish from our vast collection).
Natural Nail Options:
Specialty Hand and Foot Treatments – Enjoy a relaxing hand and/or foot treatment with one of our specialty body care lines. Choose from options such as the Stress Fix* treatment: with aroma and technique clinically proven to reduce stress levels; or the soothing Caribbean therapy treatments to take you on a relaxing journey.
Hand Treatment – $55
Foot Treatment – $65
Gervais Spa Pedicure (1 hour) – Sit back and relax while we exfoliate your feet and legs using AVEDA's Aqua Therapy; followed by a rich massage with a blend of our scented oils and enjoy a warm paraffin wax treatment that infuses feet with moisture and softness. $55
Gervais Spa Manicure (1 hour) – This manicure uses the best ingredients to revitalize hands and nails. Set adrift during an infusion of warm wax to the hands. Finish with your choice of polish. $45
Maintenance Manicure  $30
Maintenance Pedicure  $35
Add Gel Polish Finish – Upgrade any natural nail service to gel polish for only $10 more!
Extras
Polish Change $15
Gel Polish $30 – Fingers
Gel Polish $35 – Toes
Acrylic Nail Options:
Standard Full Set               $55
Standard Fill                       $45
1 – 2 colors or full glitter
Luxe Full Set                       $65
Luxe Fill                                $55
Standard plus 1 – 4 accent nails.
Ombre.
A few crystals, gems, charms, foils.
Simple hand painting.
French tips or Pink and Whites.
Elaborate Full Set             $75
Elaborate Fill                      $65
Standard plus 1 – 4 accent nails.
Encapsulated designs. Marble.
Lots of crystals, gems, charms.
Simple hand painting.
Eccentric Full Set              $95
Eccentric Fill                       $85
Standard + excessive amount of crystals,
gems, charms.
Detailed hand painting.
All nails *glam*